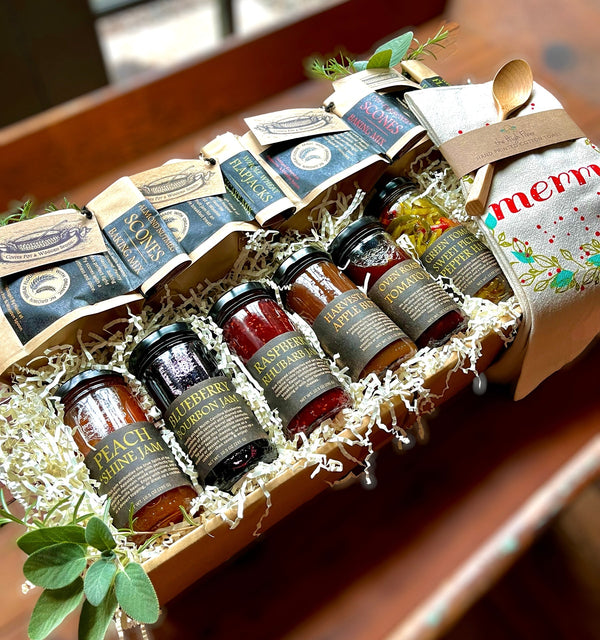 Very Merry Breakfast Collection

You can't help but be merry waking up to this incredible assortment of delicious breakfast offerings.  Flapjack and Scone mixes made with Carolina Ground Organic flour makes tall stacks of fluffy delicious pancakes and crumbly sweet scones perfect to serve the whole family and spread much cheer!  Top it off with our saucy jams for an incredibly flavorful treat.
This ultimate breakfast collection serves up to 10-14 people and includes:
TWO Bags Flapjack Mix
Old Fashioned Scone Mix
Almond Nutmeg Scone Mix
Oven Roasted Tomato Jam
Peach Shine Jam
Bourbon Blueberry Jam 
Raspberry Rhubarb Jam
Harvest Spice Apple Butter
Sweet Pickled Pepper Hash (incredible with breakfast sausage!)
Handprinted Merry Towel
Wooden Spoon
Find our favorite breakfast recipes for entertaining using these delicious products on our Recipes page!
A Very Merry Breakfast Menu
Flapjacks with Bourbon Blueberry Jam
Apple Butter Sticky Buns
Cream Cheese Pound Cake with Raspberry Rhubarb Jam
Pan Fried Breakfast Sausage with Pickled Peppers
Spinach Quiche with Tomato Jam
Peach Bellinis with Peach 'Shine Jam & Champagne