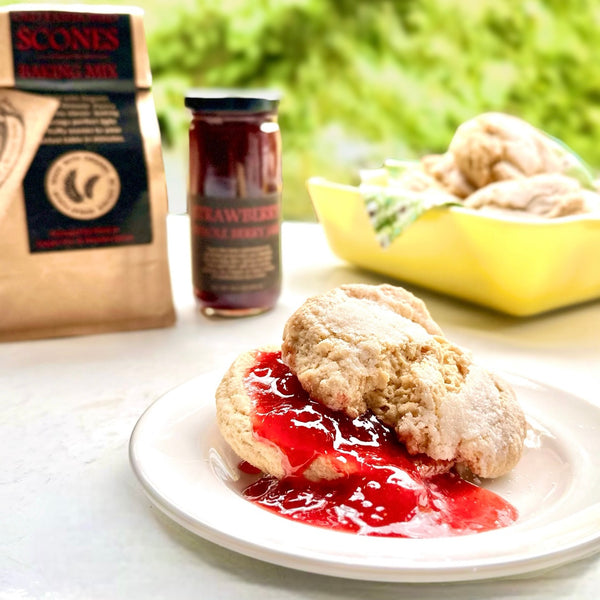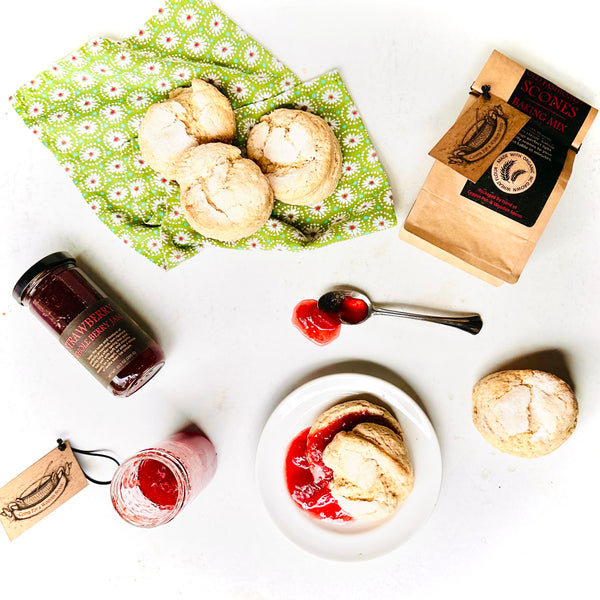 Warm & Jammy Gift Box -- Strawberry Whole Berry Jam and Old Fashioned Scone Mix
Perfect for gifting to a special someone or favored friend, this beautiful assortment contains our Strawberry Whole Berry Jam and Old Fashioned Scone Mix.
All orders come packed and ready for gifting -- jam & scone mix are nestled in a bed of wood shavings in our branded kraft gift boxes, tied with raffia ribbon -- perfect to share & enjoy! We can even ship direct to all your food loving friends & family with complimentary gift notes included. Simply make your product selections and send us a note about how you would like your order packaged.
-- Strawberry Whole Berry Jam --
Pure sun ripened strawberries, perfectly preserved at their peak of flavor. We kept this jam pure and simple, adding only cane sugar and lemon juice. Savor the taste and texture of fresh whole berries long after spring has passed. Pairs well with your favorite soft and creamy cheeses; on a bagel, with crackers, or atop a scoop of vanilla bean ice cream.
Made with Quality All Natural Ingredients: Strawberries, Sugar, Lemon Juice
Net Weight 10.5 oz, 280 g - Refrigerate After Opening -
--Old Fashioned Scone Mix--
Our Scone Mixes make a convenient and easy way to enjoy light & fluffy, fresh baked scones with your favorite Copper Pot & Wooden Spoon breakfast jam in minutes.
Perfect for pairing with our berry jams, marmalade or use for shortcake with fresh fruit! Our baking mixes are made from high quality, all natural ingredients.
Preheat oven to 400F. Combine Mix with 1 Cup Heavy Cream. Knead lightly, just until dough holds together. Form into large flat circle, about 8" diameter by 1" thick. Sprinkle top with sugar. Cut into 6-8 wedges, transfer to lightly greased baking sheet. Bake until light golden brown, about 15 minutes.
Serve with your favorite Copper Pot & Wooden Spoon Jam!
Made With Quality All Natural Ingredients:
Carolina Ground Organic Red Hard Wheat Flour, Sugar, Baking Powder (Sodium Acid Pyrophosphate, Sodium Bicarbonate, Corn Starch, Monocalcium Phosphate), Salt
(Almond & Nutmeg flavor Contains: Almonds & Nutmeg. Chocolate Chip flavor Contains: Dark Chocolate)
-------------------------------------------------------------------------
Copper Pot and Wooden Spoon specializes in artisan style small-batch preserves, pickles and gourmet foods.
To ensure the products we create are of the ultimate quality, with the highest flavor and presentation, each batch is handcrafted with fresh seasonally grown produce.
Each recipe is created without unnecessary additives, preservatives, commercial pectin and excessive sugar that are often used as fillers.
Small-batch preparation and traditional culinary methods ensure that each jar contains the highest quality, all natural products with maximum flavor in each batch.
********* CUSTOM GIFT BOXES ************
See something here you'd like to mix & match with some of our other product selections? Use the Custom Order request to send us a message! We'll be happy to assemble a custom listing just for you.